Kristian "K.B" Bjerge
Kristian loves a good challenge and speed, both at work and in his free time, and he has certainly been instrumental in shaping the development at KIBO since his first day of work in 1991.
Kristian "K.B." Bjerge is ready for Ride Across Europe
- a 13-day cycling race covering 2,300 km from Vejle to Nice!
Electrical Manager and Problem Solver

When Kristian was hired at KIBO in 1991 as an Electrical Technician, his main task was to travel to customers across the country to install and service sliding gates and boom barriers. In addition to this, he also assisted the sales team in creating price lists, and he independently set up the electrical workshop where programming of control units for gates, boom barriers, bollards, etc., still takes place today..

As the years went by and more colleagues joined, due to Kristian's expertise, he naturally took on more planning tasks and frequently served as support for the many salespeople, technicians, and customers.

For Kristian, the transition from the role of Electrical Technician to Electrical Manager has been a gradual one.

Today, a significant portion of Kristian's time is still devoted to providing support and solving both small and large technical problems in collaboration with salespeople, technicians, and customers. Additionally, he also conducts ongoing training for Electrical Technicians in areas such as loop relay and component education, ensuring that everyone is well-prepared to assist our many customers.

When asked why he has been with KIBO for over 30 years, Kristian promptly cites three important reasons; "A varied daily routine, great colleagues, and freedom with responsibility."

Indeed, freedom with responsibility has always been deeply ingrained in KIBO's DNA – as Kristian describes it:
"Right from the start, I had free rein to develop automation solutions. On the second day, I visited a supplier, where we put together a gate control system that we used for many years. It truly proves that we trust each other in the company, that we always have, and that we do it well.", Kristian Bjerge, Electrical Manager

It never gets easier, you just go faster!
Kristian is an active man who doesn't like to sit still for too long (unless he's on a racing bike).
During the winter, he plays badminton several times a week, but his true passion is cycling, which he started in 2001 and continues to do year-round.
Over the years, Kristian has been on countless multi-day cycling trips throughout Europe, especially enjoying destinations like Mallorca, Italy, and Belgium due to their fantastic scenery and terrain.
Kristian takes cycling seriously, "but not so much that there's no room for 2-3 café stops a day," as he puts it. In other words, he gives it his all on the road and at the coffee table – coziness is a must!
Kristian is dedicated and persistent in everything he does, and he loves a good challenge. So, when a friend from his cycling club invited Kristian to join Ride Across Europe 2023 – a 13-day, 2,300 km cycling race from Vejle to Nice – Kristian couldn't say no. Therefore, the past year has been spent preparing for the race.
On July 29, Kristian embarks on the cycling journey of a lifetime, and the entire KIBO team is excited to follow Kristian and the rest of the team as they head towards Nice!
Even though Kristian has been with KIBO for over 30 years and has spent nearly as long on his bike, he has no intention of slowing down anytime soon. As Kristian puts it, echoing the immortal words of former cyclist Greg LeMond, "It never gets easier, you just go faster".
Fortunately, Kristian enjoys speed both at work and on his bike.
Kristian has his gear in order for Ride Across Europe -
ere's the back of his cycling shirt with a quote from former cyclist Greg Lemond.
A quote that Kristian can identify with both at work and on his bike..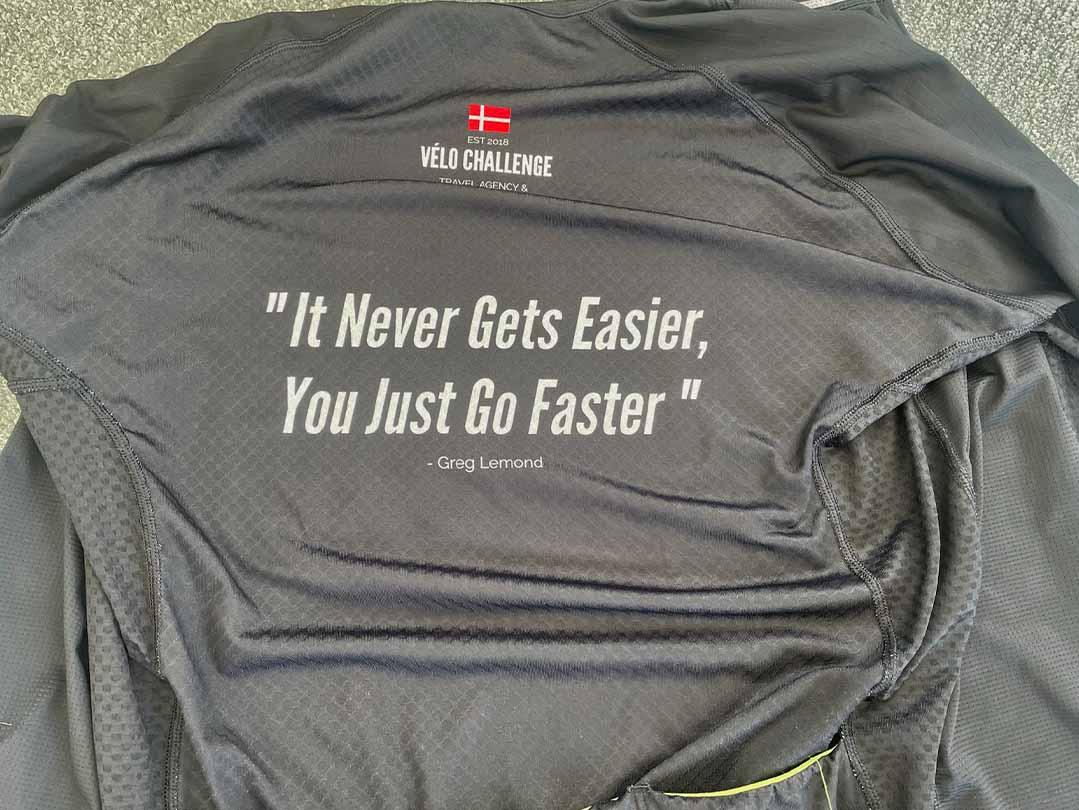 Let's have a conversation about your security needs
You are always welcome to call or write to us, whether it's for a specific offer or just for advice.
Please note, we only do repairs in Denmark.