Extinguish the Fire Immediately
With a mobile fire extinguisher from KIBO Security, you are guaranteed an extra layer of safety at places such as camping sites, construction sites, or outdoor events like festivals, sports events, and concerts.
The fire extinguisher is suitable for most areas where there is a risk of fire.
The fire extinguisher is visible from several meters away
thanks to its impressive height of 4.4 meters and flashing lights at the top.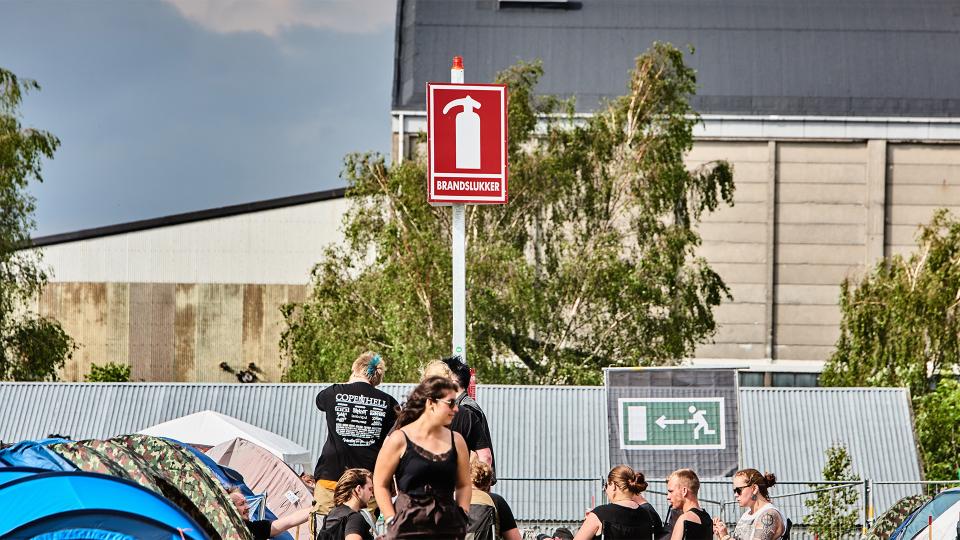 ---
Specifications
The square post of the fire extinguisher is 100mm wide and 4400mm high (including the base).
The base of the fire extinguisher measures H1000mm x W1000mm and weighs approximately 300 kg (the entire fire extinguisher weighs about 350 kg). The base can be secured with ground spikes and comes with holes for forklift forks.
The fire extinguisher comes with a permanently mounted 3-sided sign indicating a fire extinguisher (each side measures H1000mm x W800mm).
The fire extinguisher comes with a red flashing light powered by a 6V battery.
Optional: 4 universal holders for 6 kg fire extinguishers and 4 eyelets for securing fire blankets can be added.
Important Regarding the Placement of Fire Extinguishers
Fire extinguishers should be placed in a manner that ensures the right types of fire extinguishers are available in the necessary quantity and in the right locations.
Where fire extinguishers are used as a supplement or replacement for hose reels, the distance to any point in a building should not exceed 30 meters in a straight line to a suitable fire extinguisher.
Portable fire extinguishers should preferably be placed near the exit of a room. In cases where portable fire extinguishers are needed for specific objects like frying pans, a portable fire extinguisher should be placed so that accessibility to the extinguisher is not obstructed in case of a fire in the object, and the extinguisher is in close proximity to the object. When portable fire extinguishers are needed in small rooms where there is normally no occupancy, the portable fire extinguisher should be placed immediately outside the door, for example, in a technical room.
Source: Bolig og Planstyrrelsen.
---
Download Product Datasheet
Click on the product datasheet to read more details about the product.
Download Documentation
Click the document to get more information about the product.
Let's have a conversation about your security needs
You are always welcome to call or write to us, whether it's for a specific offer or just for advice.
Please note, we only do repairs in Denmark.