View Our Selection of Sliding Gates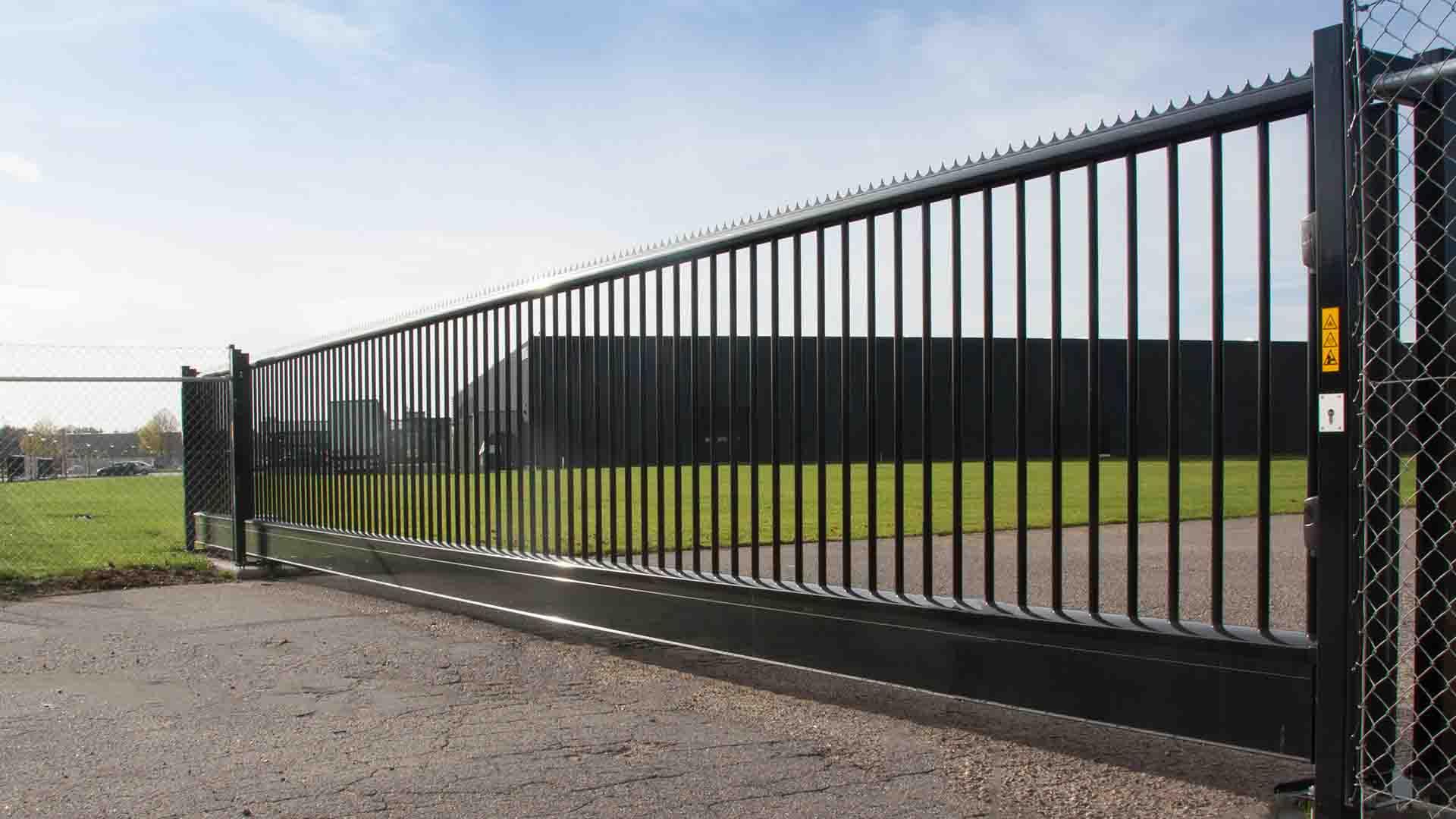 Large Selection of Automatic and Electric Gates for Industrial Driveways
We offer a wide range of high-quality automatic and electric sliding gates in all price ranges. We design gates that can meet all the needs of industries, the public, and businesses of all sizes.
A sliding gate is an ideal solution when the space in front of the gate is too small for, for example, a swing gate, or if a slope prevents the use of double-leaf gates. If space is too narrow for a sliding gate to glide along the fence, you can also choose a folding gate, which requires significantly less space than a sliding gate..
Freestanding Sliding Gates and Cantilever Gates are Suitable for the Danish Weather
We recommend a freestanding sliding gate for most types of areas, as this construction makes the gate suitable in case of minor irregularities in the surface. Moreover, a freestanding sliding gate (also known as a cantilever gate) is suitable for the Danish weather, as the construction allows the gate to move over fallen leaves, snow, and ice, which can easily accumulate under the gate during certain periods.
However, all customers are different and have different needs, so a freestanding sliding gate is not necessarily the right solution for you. Therefore, we can also provide other types of gates, such as a gate with a gate track or a top-hung gate.
Contact us via the form, and together we will find the right solution.
Color and Filling on Your Sliding Gate
We can deliver your new electric sliding gate in many colors - almost only limited by your imagination. Colors like black, anthracite - or just the raw galvanized look - are some of our most requested colors as they go well with most areas.
On several of our gates, it is also possible to choose between filling with either balusters or grilles. A gate with grille filling is ideal, for example, if you also have a matching steel grid fence/panel fence, whereas a gate with baluster is suitable if you have a baluster fence.
The gate can also be delivered with spikes on top (also known as 'dragon tail' or 'shark teeth'), which makes climbing difficult and also ensures that birds do not perch on the gate.
The Speed of Your Gate Is Important to Consider
How fast should your sliding gate open and close? A slower gate like our ECO-liner is ideal for areas where the gate needs to be opened and closed a few times a day. If it is a small opening with modest requirements for opening and closing frequency, it is also worth looking at the sliding gate SKP 110.
If your gate needs to be opened and closed many times a day, we recommend a faster gate like our Speedliner or A-liner models, as these gates are fast and suitable for frequent open-close cycles.
If you want your gate to be the fastest on the market, we recommend that you take a closer look at a folding gate instead. A folding gate can open faster than even the fastest sliding gate.
Choose the Right Access Control for Your Automatic Sliding Gate
There are many operating options when it comes to an automatic sliding gate. Choose from options such as:
Key operation
Keypad
Code card
SMS code
Call
License plate recognition
Mobile app
One option does not exclude the other, so it is possible to have an electric gate that can be operated both via a keypad and a mobile app, for example.
If you choose access control with license plate recognition, a small camera will be installed at the gate that reads the vehicle's license plate. When an authorized vehicle approaches the gate, the gate will automatically open - and close again when the vehicle has passed through.
You can determine which license plates should have permission, and you can even set time periods during which specific license plates are allowed to pass through your gate.
Monitor the Live Operational Status of Your Electric Gate
With KIBO Connector, you can easily open and close your automatic sliding gate and monitor its current operational status. You can react immediately in case of damage or breakdown or faults in photocells, power supply, emergency stop, and more.
KIBO Connector is available for both computers and as a smartphone or iPhone app - so you always have the golden overview at your fingertips.
Height and Width of a Sliding Gate
Our sliding gates come in several sizes. The opening width of your electric gate depends on the size of the vehicles that need to pass through the gate.
Sizes for single-leaf sliding gates:
Max height, single-leaf gate: Up to 3 meters
Max width, single-leaf gate: Up to 12 meters
Sizes for double-leaf sliding gates:
Max height, double-leaf gate: Up to 2.5 meters
Max width, double-leaf gate: Up to 24 meters
What Does a Sliding Gate Cost?
Many of our customers are naturally interested in knowing the cost of a sliding gate. However, the price of a sliding gate depends on many factors such as length, motor, gate automation, type of access control, and other options.
A large sliding gate with access control, gate automation, and many extra features is more expensive than a small sliding gate that can only be operated via a mobile phone.
If you are looking for a gate where materials, speed, design, functionality, and optional features are top-notch, we can recommend an A-liner sliding gate or a Speedliner sliding gate. If you want a sensible gate with high reliability and a balance between design and function, Skydeport SKP120 might be right for you.
Remember a Service Agreement and Emergency Agreement for Your Gate
Regardless of the type of gate you have, it is important to remember a service agreement. In addition to the annual mandatory service of your industrial gate, we recommend an additional service, so your gate is serviced twice a year. This is to extend the life of the gate and to anticipate any operational damage due to wear and tear, etc.
One cannot predict everything, so we also recommend that you have an emergency agreement for your gate. We offer three types of emergency agreements:
24/7 service: Repair within 4 hours around the clock, all year round
Call 4: Repair within 4 hours during normal opening hours
Call 8: Repair within 8 hours during normal opening hours
If there is a breakdown or fault in your electric gate - or if your gate is hit - the emergency agreement guarantees that we will come and repair your gate within the specified time frame. Therefore, it is also important that you periodically review your emergency agreement - your company's needs can change over time.
You Can Get Emergency Assistance Around the Clock for Total Damage to Your Gate
If there is an acute injury or breakdown of your gate or barrier system, we can quickly set up a mobile gate.In less than 12 hours, your perimeter can be restored with a mobile solution, ensuring your business is secure until your gate or barrier system is operational again.
With a mobile solution, your company can quickly return to normal operations and continue to comply with all applicable certifications.
If you need emergency assistance, call us at 70 10 70 77 around the clock, all year round.
"Great service, very satisfied". LEO SØRENSEN HOLDING ApS rented a mobile gate when their gate was hit and completely damaged.
See Our Gallery of Sliding Gates
Get Live Operational Status Combined with Access Control on All Your Devices
With KIBO Connector, you can easily control your devices and simultaneously monitor their current operational status. This allows you to respond immediately in case of errors, damage, or breakdowns.
KIBO Connector is available for both computers and as a smartphone or iPhone app - ensuring that you always have the golden overview right at your fingertips.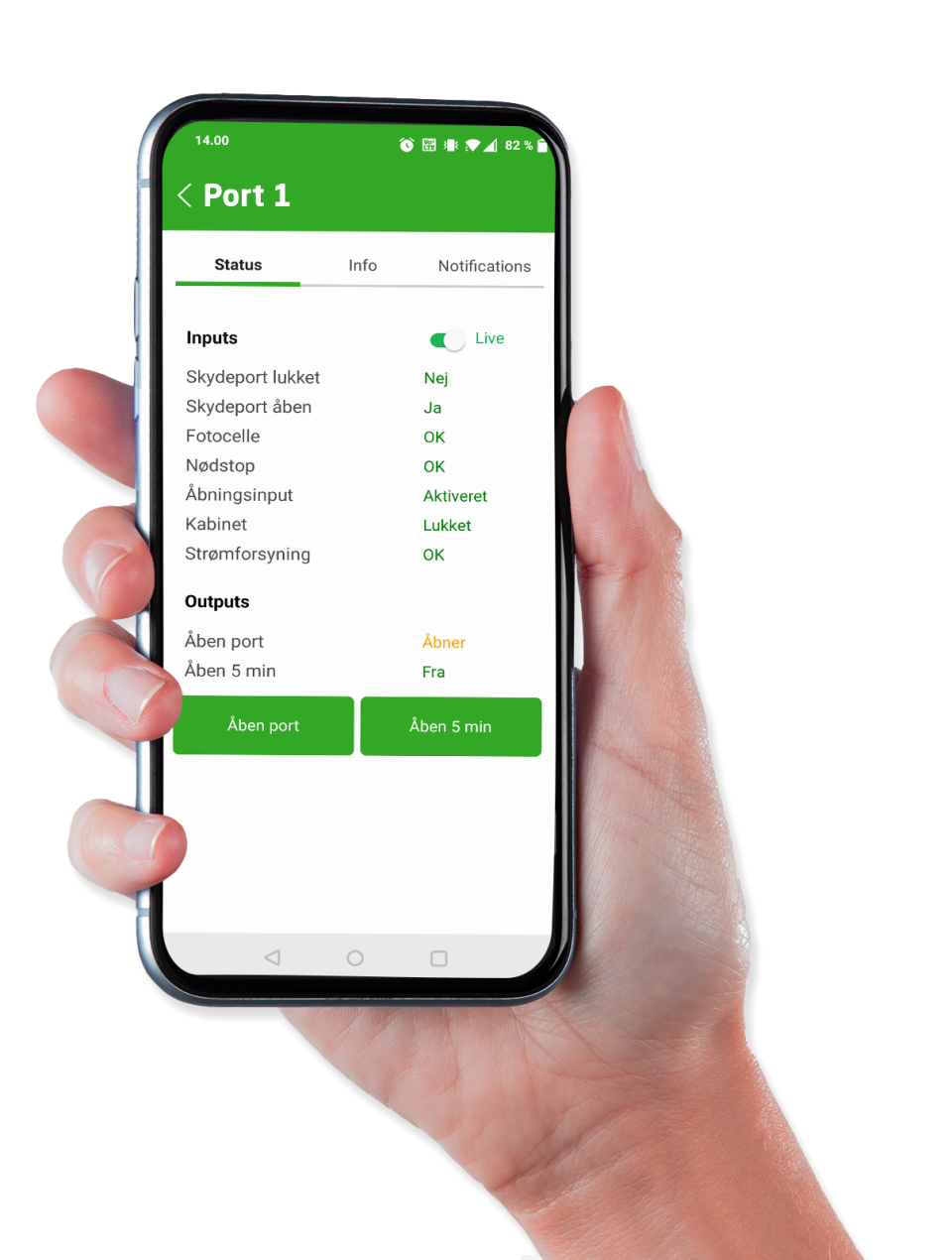 Let's have a conversation about your security needs
You are always welcome to call or write to us, whether it's for a specific offer or just for advice.
Please note, we only do repairs in Denmark.